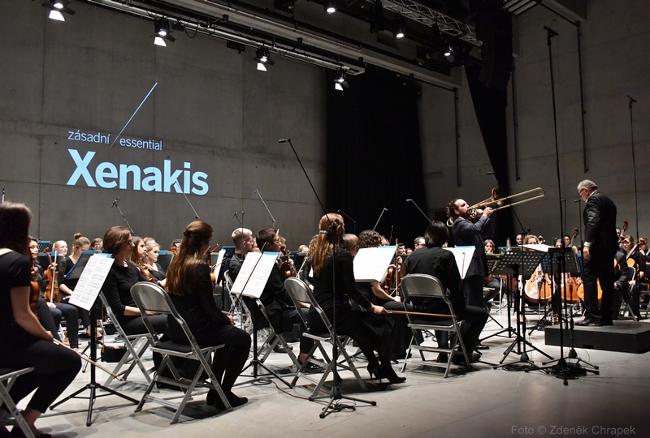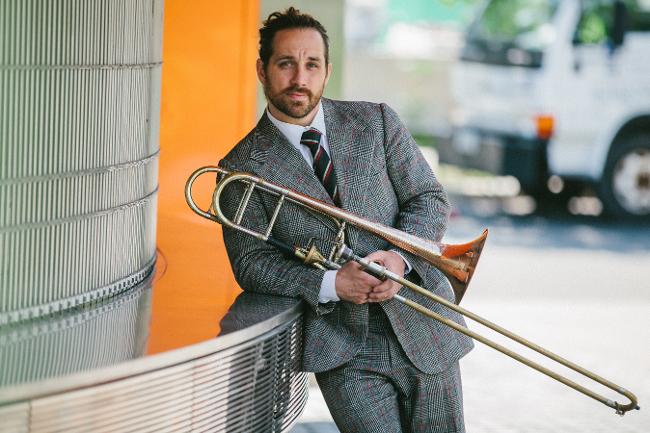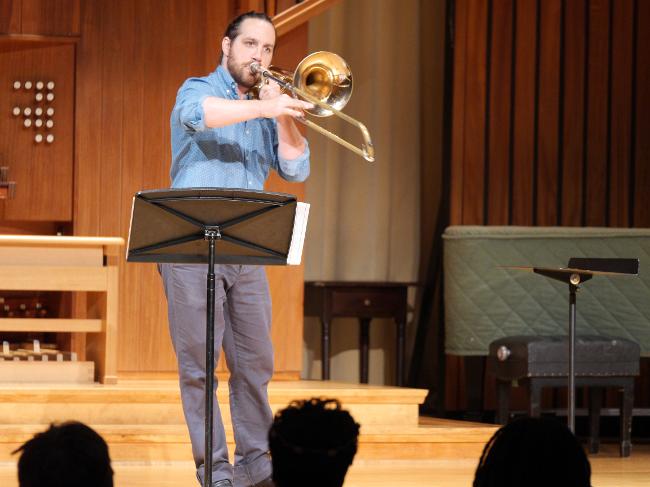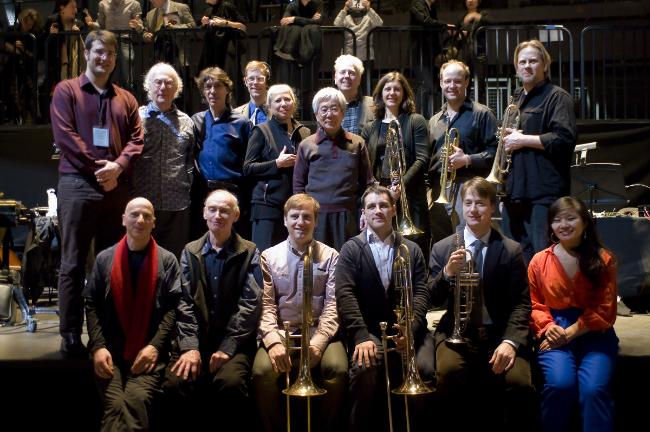 from the last performance ever of the Merce Cunningham Dance Company. One of the proudest moments of life - surronded by great musicians playing for the best of possible causes with absolute freedom. So far, this was the best artistic experience of my life.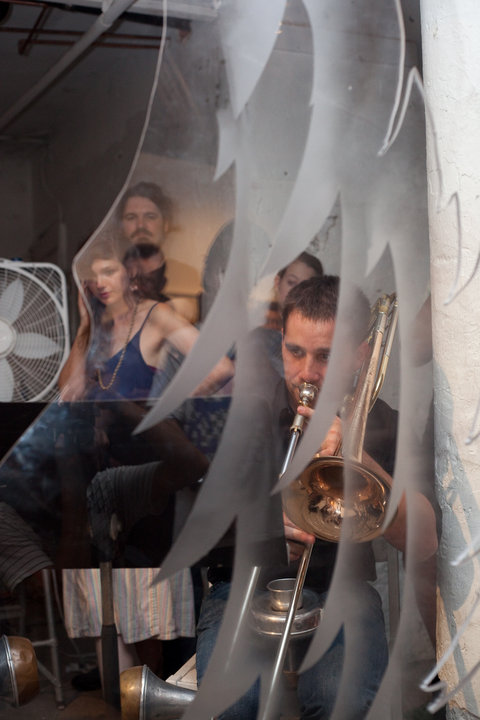 the one from a performance of Conrad Winslow's Pinning Music for the Hand. We played in a basement somewhere by Chinatown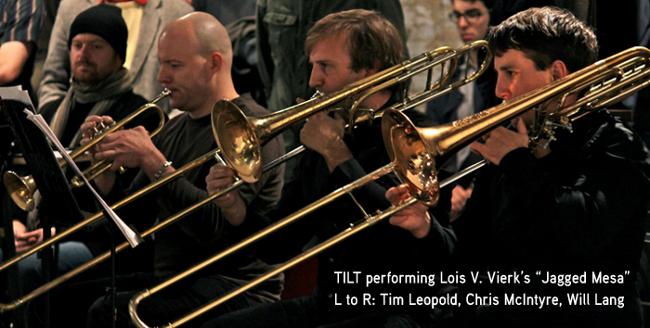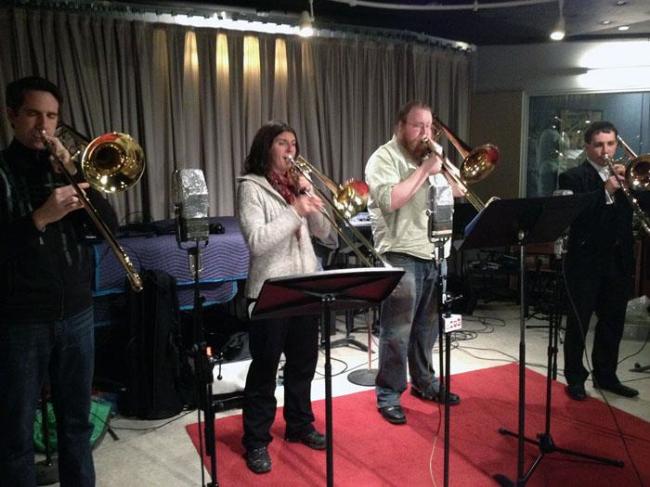 the one where the hand plays wNPR's All Things Considered (playing Eve Beglarian's In and Out of the Game - this performance is also on youtube.) BTW!!! Looks at those microphones!!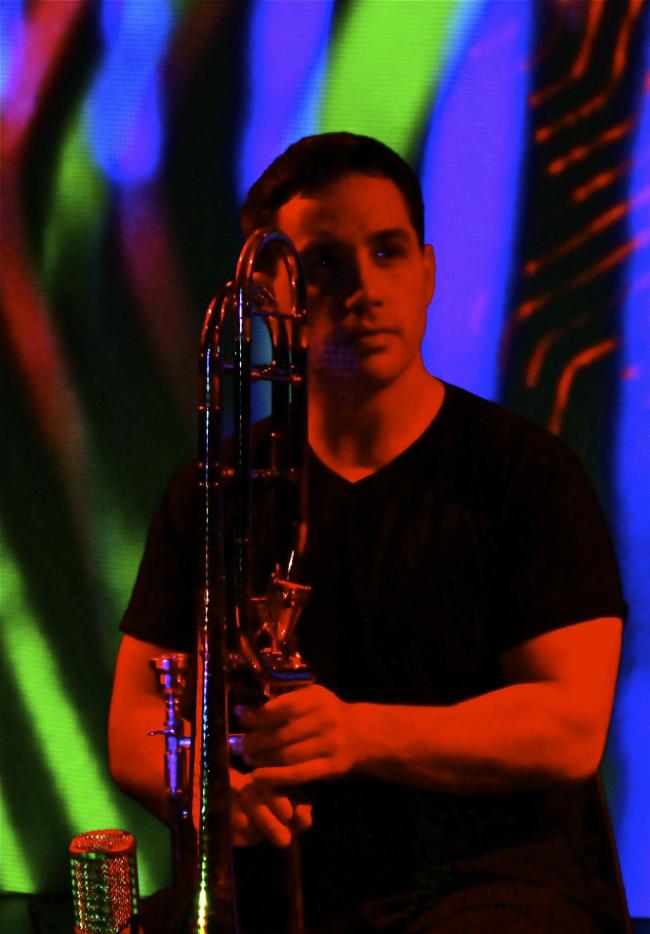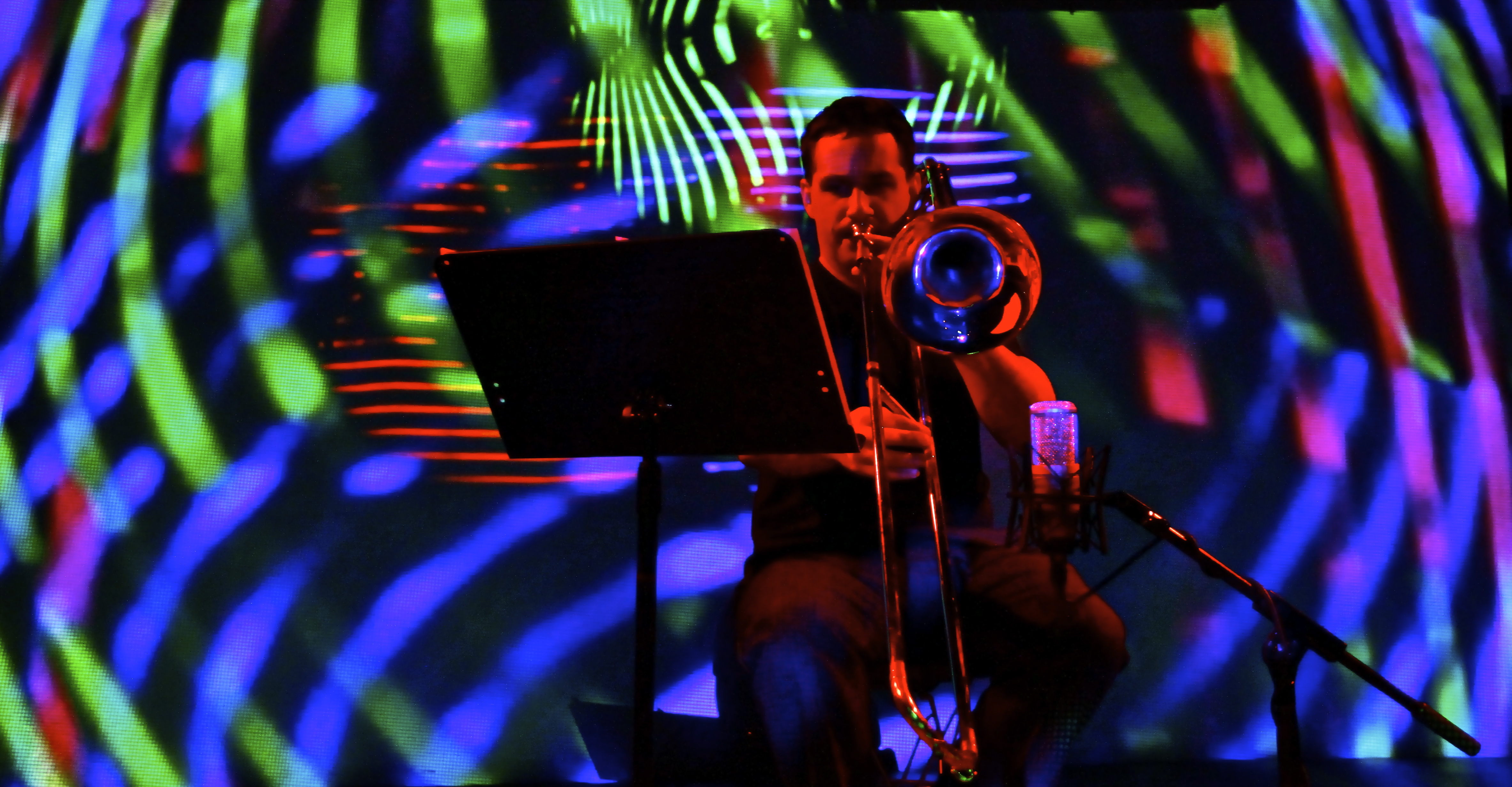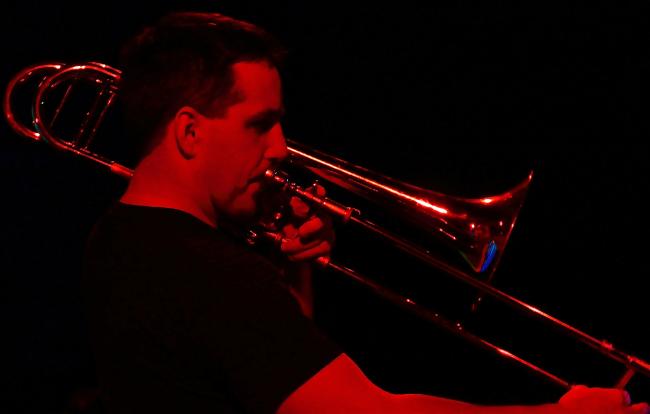 the one with the photos (the above three at least) from the premiere of Randy Gibon's brilliant/crazy/infamous/visionarian (yeah, i might of made that word up) The Third Pillar..., a three hour + odyssey for solo trombone, digital delay, and sine wave drones. all credits for the wonderful photography go to Tear+Tan and Hugh Burkhardt for Avant Media.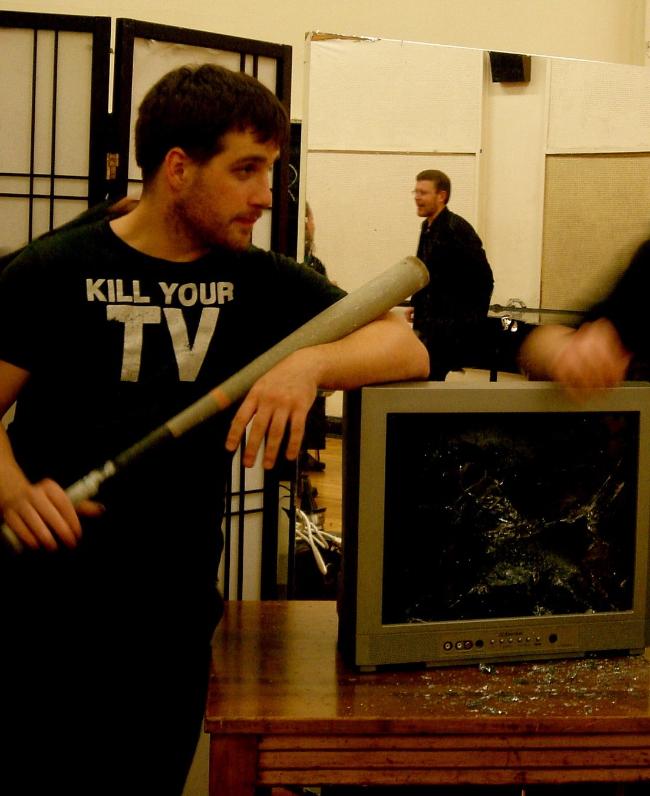 the one where i earned that t-shirt! That really was my tv, and I killed it during the 20th Power Concert, as instructed in a piece of Andy Akiho's for trumpet and trombone (one of twenty world premieres on that show!)
Also! that's my good australian bud Philip Everall in the backround mirror, looking like he's both laughing and my next target! Miss you man!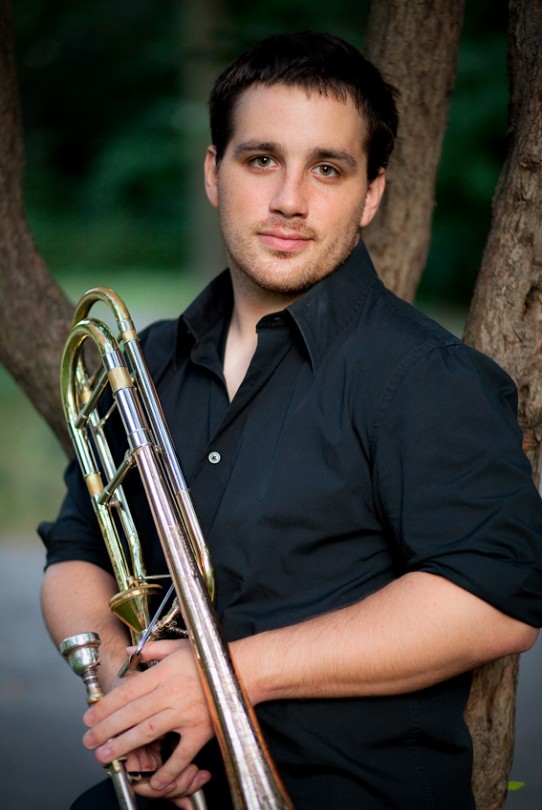 all credit to David Finlayson for this picture!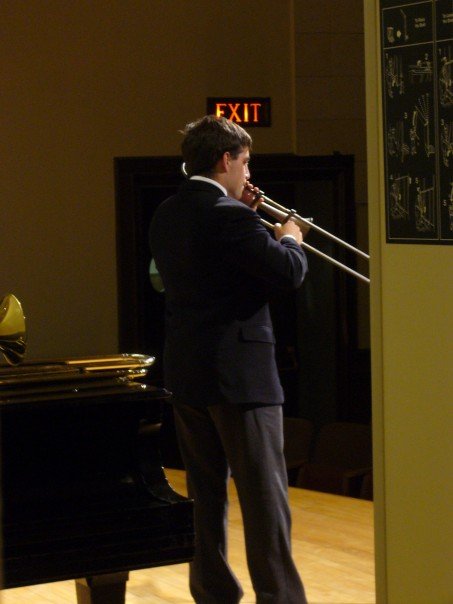 Playing Alto Sackbutt on one of my final Fredonia Recitals. On this one I played the Sackbutt, Alto Trombone, and Tenor Trombone in my first unaccompanied recital. I think it was then I knew what I wanted to focus on.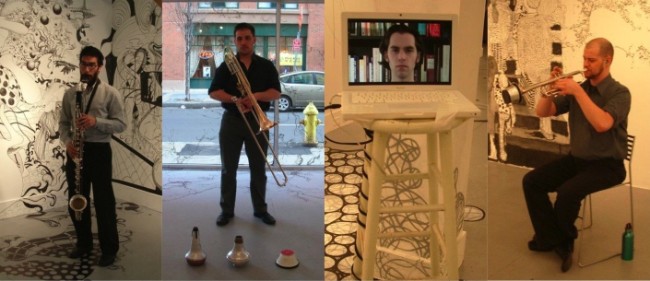 This is actually all from a loadbang performance! It's us playing a musical version of the Exquisite Corpse (everyone performs independently of each other) at an art gallery in New Haven, Connecticut.

loadbang! from a photo-shoot in Brooklyn with Christopher Starbody. I remember that there were towers of some type that gave off radiation, and we all climbed the tower to get a shot. After about 2 minutes we all started to get a weird taste in our mouths, headaches, and general queasiness... To this day I'm not sure what we thinking!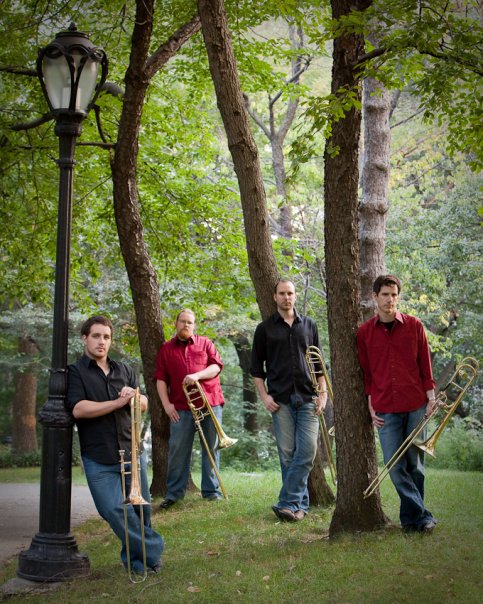 From the Guidonian Hand Photo Shoot with David Finlayson in Central Park. In addition to being the Second Trombonist for the New York Philharmonic, David is such a talented photographer that he even manages to make us look good! (And he's a hell of a nice guy and a great teacher.)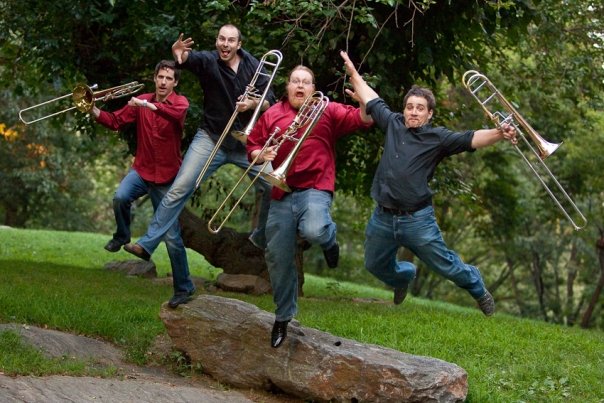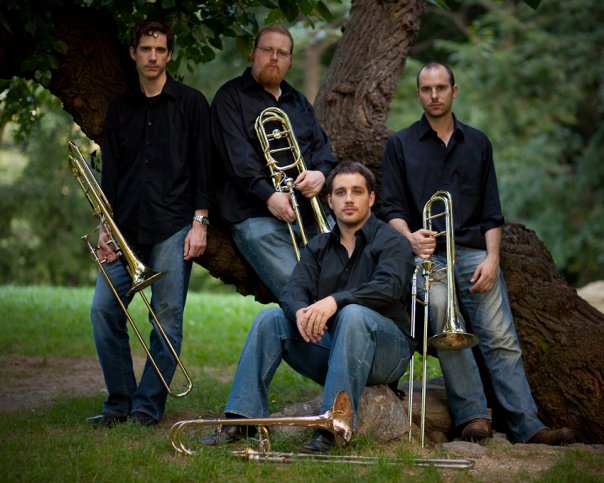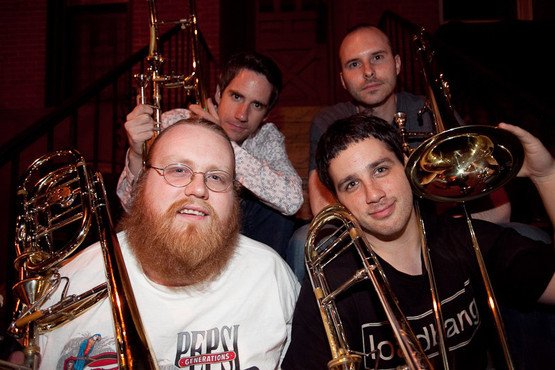 Hanging with the Hand after a show with Just Puppets at the last night of Harry's Bar in Brooklyn.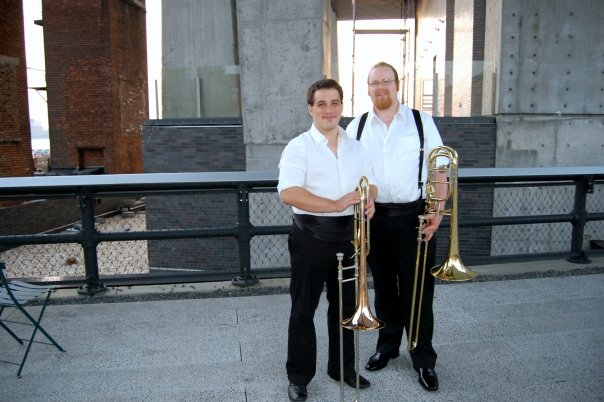 The Lang/Rogers Project, as seen on the High Rise.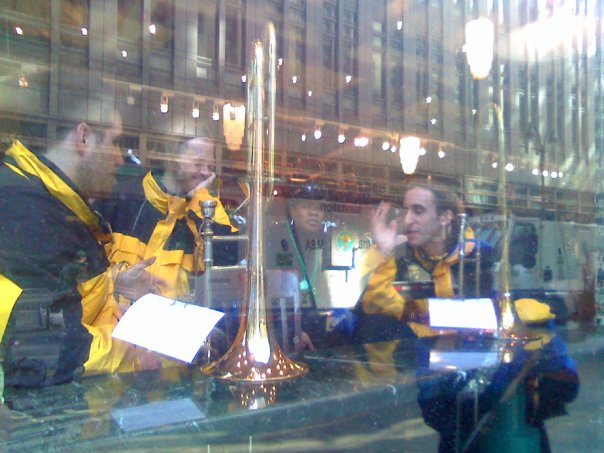 My Horn seen through a window in Midtown, hanging with my good friends Ric Becker and Chris Duff waiting for a parade to start!